Thanks to pressure from the International Air Transport Association (IATA), airlines around the world are exploring ways to reduce the industry's carbon emissions by employing alternative fuel sources – namely biofuels synthesized from algae. The goal is to reduce the greenhouse emissions of jet fuel (which currently account for 2 percent of all man-made emissions) to half that of 2005 by the year 2050.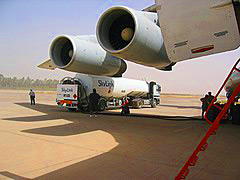 According to IATA's Assistant Director of Environment Technology, Thomas Roetger, overhauling fossil fuelsmeans investing in more fuel-efficient planes and air traffic service providers to help shorten flight times. It also means experimenting with a mix of traditional jet fuel and biofuels. Sixteen airlines around the globe including Air China, Air France and Thai Airways have embraced this approach with test flights and more than 1,500 commercial passenger flights to date (the fuel mix has been certified safe for planes since 2011).
The newest addition to this collective push for cleaner skies is Singapore Airlines (SIA). In a joint research partnership with hired consultants and the Civil Aviation Authority of Singapore (CAAS), SIA plans to weigh all of the benefits and requirements of switching over to biofuels. The study, scheduled to start later this year, with last approximately six months although the cost has not been calculated. According to an interview with SIA spokesman Nicholas Ionides and The Straits Times, this collaborative effort will yield unprecedented results.
Of course, the price of such a widespread fuel transition is almost twice that of standard jet fuel, but Roetger believes the cost will drop as demand rises and suppliers reach economies of scale. This is all generally good news, but it begs one question: Why hasn't the North America embraced these progressive ideas more? Why aren't the United States leading this charge?
Source:
http://www.eco-business.com/news/caas-sia-study-alternative-fuel-use/