The oil spill in the Gulf of Mexico will most likely change the balance of power of international oil companies (IOC's) and national companies in the oil industry.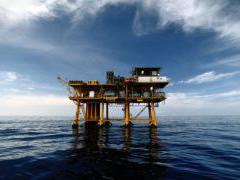 Until this disaster, and the consequent mess with the oil clean up, a generally held assumption had always been that the IOCs would make use of their superior technological skill base over the national companies, which would enable them to explore further offshore into deeper and more remote wells in order to replenish their reserves.
Of the 85 million barrels per day of oil used globally, about 30% comes from offshore oil wells and its share is gradually increasing. State companies hold most of the big onshore wells, so offshore is one of the few remaining areas of potential expansion for IOCs.
Mike Wittner, head of oil research at French bank Societe Generale, explained that an ever increasing amount of global oil production is offshore, in particular deep offshore.
The Caspian, the Gulf of Mexico, Brazil and West Africa are the new areas of exploration, and of those four, three of them are deep water zones.
However, since the oil spill and unsuccessful oil clean up, governments have been hinting on introducing an entire set of new rules regarding offshore operations. As part of this governments are proposing the obligatory drilling of secondary wells to act as a buffer in the case of an explosion such as that that occurred in the Gulf of Mexico. This would dramatically increase costs for the IOCs.
One of the IOCs' only advantages over national companies is their higher level of technological innovation, but governments will now have the power to demand that the operation is a joint venture and that they want technology to be shared before they agree to giving out new licenses.
As reserves are not easy to come by for IOCs, they may well have to swap their expertise and technology for licences or agree to less attractive terms for new contracts.
When governments are making important decisions about their waters and offshore drilling, they are certainly going to want to have full control over operations. For this reason they are either going to demand majority stakes, or they will ask for joint ventures or partnerships.
Despite all this, apart from the technological edge that IOCs have over national companies, they do have some further advantages, such as their retail networks and refineries, as well as their large customer bases. When IOC's try to win contracts, this is one of the main things they will market. In the near term, some technologies will remain in the hands of IOCs.
The oil spill occurred relatively recently and the oil clean up is still underway, but it looks like the consequences will be felt in the industry for decades to come.
For more detailed information, visit:
reuters.com
4 Responses to "Business status for oil companies after the Gulf spill"
Leave a Reply
You must be logged in to post a comment.