What types of recycling processes are being accomplished with municipal waste? While the advantages may be obvious, are there any disadvantages to this recycling process?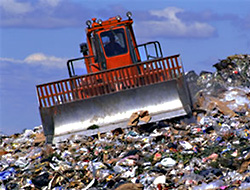 Municipal waste is one of the great problems of the modern age. Put simply, there is just way too much of it! It doesn't help that so many of the materials we use nowadays biodegrade over a very long period of time. Landfills have been the answer to the municipal waste problem for decades now, as they are inexpensive and relatively simple to set up. Landfills, however, have a hugely negative impact on the environment. Harmful metals and chemical pollutants leach into the ground, and even get into the groundwater. In addition, landfills are a huge emitter of greenhouse gases, in particular methane. Anyone who works on a landfill will tell you that current consumption rates are unsustainable.
The time has come for big changes to be made. Recycling municipal waste is of great importance! Currently, new methods of recycling municipal waste are being implemented in several locations around the globe. A major one of them is called pyrolysis. With pyrolysis technology, the process involves the thermal decomposition of organic matter in a vacuum. Another method of environmentally friendly waste disposal is called gasification. It is a similar waste to energy technology to pyrolysis, except that a small amount of oxygen is present, unlike in pyrolysis that is fully done in a vacuum. Pyrolysis technology requires a source of heat for the process to take place, but gasification does not.
The use of pyrolysis technology is an old concept, but it is now being used in new ways, which help accelerate the landfill degradation process. Pyrolysis uses technologies of advanced thermal destruction, which require the heat to break the garbage down. However, this process does not burn the garbage; rather it turns it into products and by-products that are useful. Simply put, pyrolysis technology uses heat without oxygen to decompose organic materials chemically. It is actually similar to a toaster – using heat without direct flame – in order to have a faster break-down process.
'Extreme pyrolysis' process leave residue only in the form of carbon, and this is referred to as carbonization. Pyrolysis technology may also be utilized in order to create biomass liquid fuel out of plastics. This process is referred to as 'flash pyrolysis', which is done at temperatures of up to 500 degrees Celsius. This technique has a lot of versatility; therefore a wide range of industries use it for many different jobs. In landfills pyrolysis technology is extremely useful, because waste levels can be massively reduced, which, in turn, saves more land and storage space from being used for garbage. The only disadvantage of it is that it is a rather expensive process for many cities to use. Many big cities are still testing out whether pyrolysis is the right choice for them in terms of cost and efficiency.
For the original article,
click here
For more information, go to:
en.wikipedia.org
,
www.epa.gov
4 Responses to "Alternative Methods of Recycling Municipal Waste – Updated Article With Extra Information"
Leave a Reply
You must be logged in to post a comment.