There is a vast network of crude oil pipelines in the US that consists of over 95,000 miles of pipe. There are still trillions of barrels of oil hidden in untapped oil reserves that will someday add to that staggering total of existing pipelines. Each day the US uses billions of gallons of crude oil. Crude oil pipelines in the US are so important because it is by far the cheapest mode of transporting the crude oil to where it needs to be. Quite often the crude oil is produced in areas that are uninhabited which makes oil transportation through the crude oil pipelines in the US a necessity.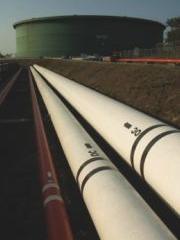 Many people are familiar with the Trans Alaska Pipeline system because it is one of the few crude oil pipeline systems in the US that has portions above ground. Of the 95,000 miles of crude oil pipelines in the US 55,000 miles are known as trunk lines that range in size from 8-24 inches in diameter. These trunk lines connect regional markets together. The remaining 40,000 miles are called gathering lines that are mostly located in Texas, Oklahoma, Louisiana, and Wyoming. The gathering lines gather oil from various sources and connect to the larger trunk lines.
The planning of crude oil pipelines in the US is a critical component of future oil exploration. Once the untapped oil reserves become usable there must be a safe way for the oil to be transported to the various regional markets that fuel our cities.
You Can Use This Form to Leave Your Feedback or Ask Additional Question
You must be logged in to post a comment.