Natural disasters are part of our existence. We build on coasts that are prone to hurricanes, on the side of mountains that have landslides, on earthquake prone land, next to volcanoes, near and in flood zones and right smack in the middle of tornado areas. The United States alone experiences $1 billion in losses per week. While the dollars and statistics may appear surprising, what is more surprising is that most people don't plan any way of natural disaster mitigation.
Whether you own a home, rent an apartment, have a business or all of the above, we all need to prepare for natural disasters. Community methods for preparing for any kind of disaster are the same for all types. There are some differences, depending upon the disaster.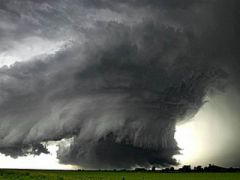 Disaster mitigation is the effort of the community, local, state and Federal organizations to use all resources and sources as a relief standard to assist in life saving situations during a disaster. It also includes the post disaster planning to help in the recuperation and rebuilding process.
Your local community may have escape shelters to house those that have been displaced due to a natural disaster in your area. The emergency facilities such as hospitals, physicians, veterinarians and clinics have established emergency routines to triage the treatment of the injured.
Communications and electric companies have standardized emergency guidelines to streamline the effect of down power or overburdened cellular lines. Larger corporations will often have scheduled emergency drills with designated leaders to take staff to emergency areas or out of the building entirely.
In 2010, The Federal Emergency Management Agency (FEMA) developed a planned strategy for a national approach to quick and fast response to a natural disaster. Entitled Project Impact, it is an overall plan with many parts to facilitate reaction and response to natural disasters. Increasing public awareness is a major key factor of this plan. People that are educated on what they need to do and can do are often a main participant in the success of survival and lowered injury risk. This many layered plan includes all facets, from individuals to enforcement of improved state and local building codes. Project Impact has a broad reach to encompass the development and implementation of established plans to maintain an infrastructure during a disaster. Components will include establishment of procedures before, during and after a disaster occurs. All government staff will participate in the education and examination process. From something as simple as teaching children when to call emergency numbers to supplying the citizens with emergency and evacuation materials and instructions.
Every type of person, company and organization is to be involved in natural disaster mitigation: People to staff the shelters and help the injured; instructions on what to include in disaster kits; emergency crews and additional manpower to remove fallen buildings and trees; and the list goes on.
If there is anything that we learned when Hurricane Katrina hit the Gulf Coast of the United States, we have learned that action needs to be fast and rescue needs to be immediate.
Leave a Reply
You must be logged in to post a comment.