There are several pros and cons of wind energy but wind energy advantages seem to outweigh the negative. To help sort out wind energy facts from fiction the following list of the top 5 wind energy facts has been provided.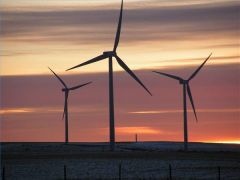 1. Wind power can be used to provide power to individuals as well as large segments of the population.
One of the best wind energy advantages is that it can be harnessed on a small and large scale. Many people have learned to build their own wind turbines to power their homes. Wind energy is also usable on a large scale. In fact, California has mandated that by 2010 utility companies derive power from wind energy.
2. Wind energy does not contribute to environmental pollution.
Wind energy facts show that one of the biggest wind energy advantages is that it is a clean energy. Wind turbines are safe for the environment and do not emit any greenhouse gases.
3. Since this list is about pros and cons of wind energy the first con to be listed is that wind energy turbines are often damaged by lightning because of their steel makeup and vertical shape.
4. Wind is an unlimited and free natural resource
New technology has made it easier and more economical to harness the power of the wind to take advantage of this free natural resource.
5. One of the less talked about wind energy facts is that there must be sustained winds of at least ten miles per hour to properly harness the wind to create energy. Until new technology can be created areas of low to zero wind will not be able to harness the wind to create energy.
This list of pros and cons of wind energy shows that wind energy facts are advantageous to the environment and economy.
4 Responses to "What Wind Energy Facts Should I Know?"
Leave a Reply
You must be logged in to post a comment.