1. Corn Husk
One of the most exciting new generation biofuels is corn husk fuel. Instead of using corn, the cellulose from the husk is used to convert to ethanol. This has great potential to solve the problem of crop competition between the same crop being used for fuel or food.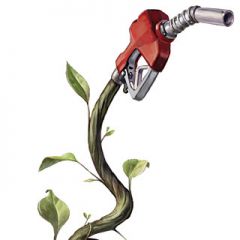 2. Algae
Algae, also known as oilgae, is currently being harvested to use as a biofuel. This is one of the new generation biofuels that has also garnered a lot of attention and created a lot of excitement for its potential. Some companies say that algae can produce much more oil per square foot than soybeans. Making biofuel algae is currently too expensive to market.
3. Wood
This new biofuel developed at the University of Georgia is made using woodchips. Unlike other wood-based biofuels, this one can be blended with biodiesel and petroleum diesel. The process is called pyrolysis and involves heating the wood pellets in an environment without oxygen. This process has the biofuel industry quite excited at its potential.
4. Tree Bark
The official name is lignocellulose and it is derived from tree bark. Some experts say it could be produced for as little as $40 per barrel, which is significantly lower than its oil-based petroleum counterpart.
5. Cellulosic Biobutinol
This type of biofuel is made from wheat straw hydrolysate. Major fuel companies are partnering with the manufacturers of cellulosic biobutinol in hopes of bringing it to the mass market.
So, as the biofuel industry continues making biofuel products from non-food sources, there may just be a brighter future for biofuels because of these new generation biofuels being created.
Leave a Reply
You must be logged in to post a comment.