India is a worthy competitor to China for the dirtiest country in the world, because not only is the air and water pollution a major issue in this country, but the garbage problem may even be worse than Vietnam. The concept of bins seems foreign to most of the population, and the overfilled commuter trains don't have them at all. This only results in everyone throwing their trash… that's right – out the windows! Another notorious dirty fact about India is the 'communal poos' – it is not uncommon to find a group of people sitting around in a circle or a line and… well, yes, defecating together wherever they like.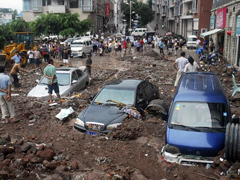 3) China.
This country has been named the dirtiest country in the world due to a number of factors, and the biggest ones are its water and air pollution. Contaminated water is a huge problem in China, with some 300 million people drinking it on a regular basis. Almost 200 million suffer from various diseases because of this. China's air pollution as a result of its breakneck economic growth has also caused millions of illnesses and premature deaths of its population. China probably has the worst air pollution in the entire world.
4) India.
Click here for Part 1 of article
Leave a Reply
You must be logged in to post a comment.