While the record-breaking drought in California rages on, a number of other states have also been significantly affected by drought conditions. In fact, seven states - Texas, Arizona, New Mexico, Kansas, Oklahoma, Nevada, and California - are experiencing the conditions that characterize a severe drought, namely crop loss, water shortages, and restrictions on the use of running water, in more than half of their land area. Parts of Texas have dealt with these problems for over three years.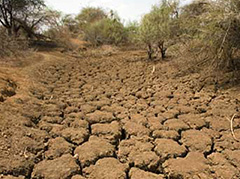 Drought severity breaks down into several categories, including severe, extreme, and exceptional levels. Concern is mounting for areas of several states that qualify for some of the worst drought conditions on record. In six of the above named states, over 30% of land area fell into the extreme drought category, meaning significant crop and pasture losses have occurred, while over 25% of both California and Oklahoma suffer from exceptional droughts, where these losses are widespread and the mounting scarcity of water often results in emergencies for their residents.
Two of the biggest commodities affected by the droughts were the growth of winter wheat crops in the Great Plains states (Texas, Oklahoma, Kansas), and water reservoirs in the Southwest (Arizona, New Mexico, Nevada). Reservoir storage levels ranged from two thirds their normal average in Arizona, to only about a third of their standard amount in Nevada. In California, reservoirs are so low that farmers have left many fields fallow. For over a year, California has trudged through the worst recorded drought in its history, and experts say that depletion of the state's water supply is occurring so rapidly that at the current rate, only a couple years' worth of water remains.
With climate change regularly resulting in record-breaking droughts, temperatures, floods, and other extreme weather problems, green solutions like renewable energy and recycling are becoming all the more important for the environmental health of the future.
Source:
http://www.huffingtonpost.com/2014/05/24/states-without-water_n_5386035.html?utm_hp_ref=mostpopular