One of the biggest energy concerns in residential, public and commercial construction is on the topic of heating and cooling. The reduction of greenhouse emissions, combined with energy savings has been a hurdle that was almost insurmountable from an international perspective. A new IEA report may change all of that, as it brings to the forefront a true plan that may bring everything into play by the year 2050.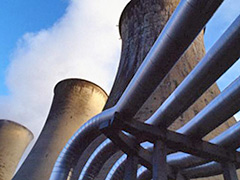 The Energy Efficient Buildings: Heating and Cooling Equipment report, released by IEA Technology, demonstrates how we can use heat pumps, solar thermal, and thermal energy storage in combination as power and heat for building construction for the CO
2
emissions reductions by as much as 2 Gt (gigatonnes). This is approximately one quarter of the emissions of today's buildings and would save around 710 million oil equivalent tons of energy by the year 2050.
The report involves replacing existing technology that could feasibly last thirty to one hundred years, in a rapid fashion as opposed to the buildings themselves. The ambitious goal is quite achievable, but will require complete organization and follow through on a scale never before seen. The main focus of the report includes: The addition of $3.5 billion (U.S.) by the year 2030 for increased R&D technology. More robust analysis metrics for the CO
2
and energy savings, combined with their financial benefits over the life-cycle. Improvement on the information flow to consumers. A transformation within the market and deployment of policies to overcome current lower energy efficient and zero-carbon/low cooling and heating technologies. Larger involvement on an international level for R&D collaboration, development of best practice policies, programs for deployment and maximization of the benefits for policy intervention combined with technical knowledge transfer between regions and countries.
This roadmap offers a potential savings of between five and twenty percent reduction in the use of fossil duels, depending upon the country and region and could potentially transfer the concept of heating and cooling as we know it on a global scale.
Source:
http://www.iea.org/newsroomandevents/pressreleases/2011/may/name,20303,en.html
3 Responses to "Reports Set Precedence on 2050 Goal for Energy Savings in Building"
Can'tDance Says:


This all sounds really good, but it requires a resounding commitment. Countries can't agree on some of the simplest of things and argue over everything. They have their heads stuck in the sand, requiring that they get more out of it than the next guy. Would love to see this work, though. My idealistic side of me is keeping my fingers crossed, because at least now, there is a plan.

June 24th, 2013 at 11:57 pm
GrandIllusion Says:


I, for one, would love to follow this organizational plan to see if the bureaucrats can overcome their petty differences and actually do something about it. Can we change the world? Yes, if each one of us stands up in support and pushes it forward.

June 23rd, 2013 at 10:58 pm
MommaKnowsBest Says:


It's about time that someone took control and looked beyond the boundaries of their individual country and their own private situations to address the needs of carbon reduction around the world. This is an incredible piece of good news because it looks like the IEA is seeing the bigger picture. Now if we can get all of the countries involved and committed, there might be some real hope to make enough changes to not only stop, but reverse the damage we have done.

June 22nd, 2013 at 10:01 am
Leave a Reply
You must be logged in to post a comment.