As print journalism continues to die a slow death and fewer people read their daily newspaper, various ways of re-using this arguable waste-of-paper have seeped into our culture. Such repurposes include giftwrapping, food wrapping, and packing material. The list could go on, but it is decidedly rare to find someone recycling newspapers into art. Montréal-based artist Myriam Dion is one such person.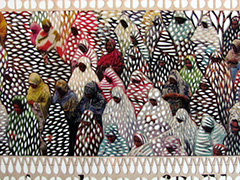 The Université de Québec à Montréal graduate student dissects newspapers and then mashes them up to create complex patterns and new illustrations. The result would be impressive if accomplished with any set of tools and medium, but Dion's detail and command of newspaper is truly unique. Kimberley Mok of treehugger.com had this to say:
"Using a range of newspapers from Le Devoir to the Cape Cod Times, Dion etches out tiny shapes over and over, creating an almost fabric-like texture, except that it's all done as subtraction. The result is an extremely fragile surface that Dion uses to cover windows, walls and spaces, adding another dimension. The delicate colors of the photos remain, accentuated by the paper filigree. Certain details like eyes, juxtaposed with Dion's exquisite handiwork, suggest a subtle narrative that is left to the viewer's imagination."
Dion doesn't just offer efficient aesthetics. Her example can easily inspire others to creatively recycle a myriad of products that otherwise get thrown by the wayside. To see more, check out her upcoming exhibitions at Pulse Miami, Art Toronto 2013, and Foire en art actuel de Québec, or on Myriam Dion's website
http://www.myriamdion.com/
.
Source:
http://www.treehugger.com/culture/exquisite-cut-outs-recycled-newspapers-myriam-dion.html