The Wind Lens is similar in function to a magnifying glass, which focuses and intensifies the sun's rays, only in this wind turbine technology, the lens intensifies the flow of wind. The design doesn't have a lot of parts that are moving, only a brimmed diffuser (a hoop), which "magnifies" the power of wind, and a turbine, which is then rotated by the wind that was captured by the hoop. Each Lens is 112 meters in diameter and can provide an average household with enough energy.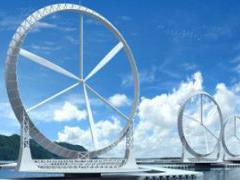 Ohya still does not know whether the Wind Lens will actually be commercially produced. He said that despite its benefits, even if this wind turbine technology does enter the Japanese market, it will probably not be quickly accepted by other countries, because of different wind conditions and intensities. At the very least, the Wind Lens acts as a more aesthetically appealing option, because they have unique floating hexagonal bases. In comparison, the traditional offshore turbines, which some claim to be an ugly atrocity compared with the surrounding landscape, are technologically way less advanced.
For more information, go to:
trendhunter.com
,
en.wikipedia.org
7 Responses to "One small step for wind turbine technology, but one giant leap for mankind – part 2"
Leave a Reply
You must be logged in to post a comment.