Whilst in many ways Los Angeles is an attractive city to live in, the city has a big downside, which is that ozone levels, or smog, often reach twice the federal health standard in the city.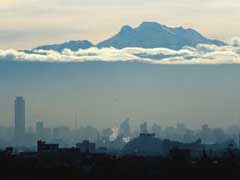 Much has been said about smog's primary target: the respiratory system. Smog damages cells in the lung's airways, leading to swelling, inflammation, and a reduction in the system's ability to fight infection.
The American Heart Association released a new study this week which points to smog as a serious threat to the cardio-vascular system. According to the study, Los Angeles type smog triggers the death of heart cells, which in turn dramatically increases the risk of heart attack.
Tests were carried out by US researchers on rats. One group of rats were exposed to ground-level ozone (smog) for two months, and this led to an increase in the activity of TNF-A, which is a direct indication of inflammation. Increased levels of TNF-A levels are in turn directly responsible for a decrease in the level of Caveolin-1, which is an important heart-protective protein. With the reduced
level of this protein, heart cells begin to rapidly die.
The other group of rats breathed filtered 'mountain' air for the same time period and no increase in TNF-A was observed in them. The rats who breathed the filtered air showed a much higher level of the heart-protective Caveolin-1 protein then the rats who breathed the 'smog' air.
This is the first time that a link has been found between smog and Caveolin-1 in the heart. As a key scientist explained, ozone, a principle component of smog, can have a direct and dangerous effect on the heart. This can result in a domino effect that can cause the death of heart cells, and ultimately a heart attack.
Previous studies have pointed to the fact that Los-Angeles style smog increases the risk of cardio-vascular problems. In addition, a recent study showed that post-menopausal women who live in Los-Angeles have a higher risk of a stroke due to the fine particulate matter in smog.
There are an enormous number of people affected by smog in the US and globally, and the impact of this form of air pollution is considered a serious public health problem. Studies such as this one have proved how detrimental to health the fine airborne particles and sulphur dioxide in smog really is. On the plus side, over the last three decades, such studies have forced federal regulatory agencies to further increase budgets for the research and monitoring of smog, and revise existing air quality standards. The large amount of money pumped into smog research has led to the development of advanced air sampling techniques, and an increased awareness of the need to reduce smog levels in major cities.
For more information, go to:
niehs.nih.gov
oma.org
9 Responses to "New study on smog, health and heart attacks – if you live in Los Angeles do not read this article."
Leave a Reply
You must be logged in to post a comment.