Municipal waste to electricity may very well be the power source for the future


There are many benefits which make municipal waste to electricity ideal for large scale use across the country and world


As fossil fuels become more expensive and scarce, alternative energy sources like municipal waste to electricity will be utilized much more frequently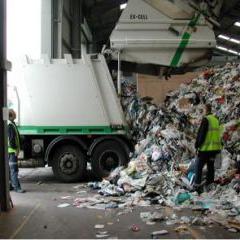 What is municipal waste to electricity, and why do many consider this process the future of the power industry? This process takes municipal waste, which is simply household and business or commercial garbage, and uses it to generate electricity following a certain process. Garbage is something that will never run out, and tons of this waste are taken to landfills every single day. Many of the landfills and garbage dumps around the United States and the world are closed because the facilities are completely full, and it can take years or even decades for this waste to degrade and make more space available. Municipal waste to electricity can resolve two problems at the same time, the abundance of trash that is generated on a daily basis and which pollutes the earth, and the need for more environmentally friendly electricity generation. In this process, garbage is collected, taken to the facility, and incinerated. The heat which is generated is used to create steam, and this steam powers turbines that generate electricity. This process offers many benefits which make it a top contender when it comes to meeting future electricity needs, and many energy experts believe that this source is the one which will be used to supply much of the electricity in the future.
Municipal waste to electricity facilities and programs can be beneficial in many ways, and have many advantages over other renewable alternative energy sources. It is these numerous benefits and very few disadvantages that make this method such a leader in the energy and waste sectors. With municipal waste to electricity programs, there is no need to transport either for long distances. The local communities where these plants are situated will benefit, instead of a foreign company or royal family. The waste which is picked up from area companies and residences will be taken to the local processing plant, and this is where these same homes and businesses will get electricity from as well. There are far less emissions, including greenhouse gases and particle pollution, so the air and environment stay cleaner and suffer less damage. This will also help decrease the effect on global warming, because less carbon is released. The local economy benefits from the commerce, employment, and taxes that the company provides as well. These power plants usually practice recycling whenever possible as well, lowering their impact on the planet even more.
The municipal waste to electricity process can also provide byproducts which are useful or profitable. This includes the ash left after the incineration process, among others. In addition, the source of the electricity is even better than free, because almost every home and business pays a fee for garbage collection. This means that the waste to electricity power plant not only sells the electricity generated back to area consumers, but can also generate revenue for accepting garbage, which is needed to provide the power. The materials required cost nothing, and actually make a profit for the plant. Because this power generation process addresses more than one need for the community, it is the most popular and viable solution to end foreign oil dependence and provide future energy needs, while keeping the local community clean and waste free. There are other solutions being considered, such as solar and wind energy as well as many others, but none of the other available technologies can offer the same advantages that municipal waste to electricity can. This makes this technology and electricity generation process the best choice and most effective option when it comes to energy in the future. Relying on fossil fuels is no longer an option for the world, or the future.
9 Responses to "Municipal Waste To Electricity: Future of the Power Industry"
Leave a Reply
You must be logged in to post a comment.