Los Angeles is known around the world for glamour, glitz and charm. However, like their propensity to hide their cemeteries (people don't die in L.A., they just go on forever vacations), they are also hiding another dirty little secret (literally). Los Angeles holds the record as being the home of the Puente Hills landfill, the largest landfill in the United States.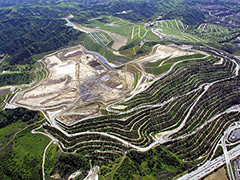 The Los Angeles landfill consists of around 150 meters of garbage. Appearing as some kind of skyscraper, it has such renowned residents as cockroaches and rats. Years ago, the area was a dairy farm and over time it has become a geological trash heap, with each citizen contributing about seven pounds of trash per day. Besides being a visual monstrosity, the toxins that exist in the garbage of this Los Angeles landfill are contaminating soil and groundwater and are releasing tons of methane that is contributing to a massive greenhouse effect.
In an attempt to attack this problem and turn trash into treasure (so to speak), the waste management department of Los Angeles has begun an intense recycling and re-managing process. They have established a network of pipes that collect the methane and use it to burn and change into electricity. This is currently equating to around 50 mw of power (enough to power around 70,000 homes). The recycling process may not be apparent when viewing this overpowering giant of the Los Angeles landfill, but it is slowly taking on a complete change through detailed separation of the various types of recyclable products. The layers of waste are also now being separated by a series of plastic membranes that have been designed to collect and contain the various noxious chemicals that might leak into the groundwater. Referred to as 'leachates', they are then filtered and cleaned, to make them safe.
Source:
http://edition.cnn.com/2012/04/26/us/la-trash-puente-landfill/index.html?iid=article_sidebar
12 Responses to "Los Angeles: Home of the Largest Landfill in the U.S."
Leave a Reply
You must be logged in to post a comment.