The White House has begun to make good on its promises regarding climate change, as the government has made a new website-based app available to the public called the Climate Data Initiative. The CDI exists as a subsidiary of data.gov, the government's central site for informational resources on a variety of topics ranging from energy to public safety.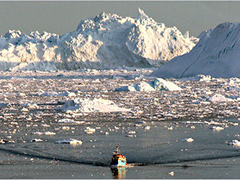 But the Climate Data Initiative is a full-scale hub of resources provided by giants in the field of scientific research, such as the NOAA, NASA, and the U.S. Geological Survey. Data from these entities will be released gradually, with the first sets of information emphasizing coastal flooding and rising sea levels.
The new web app represents the beginning of a wider federal undertaking in projects oriented around climate change. Several cities across the U.S. will be collaborating with a company called Esri in order to create "maps and apps" that will aid their governments in preparing for climate change; a project developed by the World Bank involves the widespread mapping of buildings and other urban infrastructure in more than 20 countries; and Google has even donated a petabyte (a thousand terabytes) of information space for the purpose of storing climate data.
With 2012's weather events causing the United States over $110 billion in damages and more than 300 deaths, experts believe the implementation of these new initiatives are arriving somewhat late to the party. If these conditions continue into the coming years, the planet's survival will be predicated upon the ability of humans to adapt to climate change by making modifications and adjustments to their homes, communities, and daily lives. Many have already begun this process, and the Climate Data Initiative promises to be a viable tool that will aid the situation going forward.
Sources:
http://www.whitehouse.gov/blog/2014/03/19/climate-data-initiative-launches-strong-public-and-private-sector-commitments
http://news.nationalgeographic.com/news/2014/03/140319-white-house-climate-data-app-website-global-warming-science/#.Uyp10_ldXzo