4) Cisco Brothers. Francisco Pinedo is a founder of a hip furniture maker and he doesn't think that you need to choose between beauty and benefiting our world. Hi Basal Living Collection, which is two years old, is completely earth-friendly. The company Cisco Brothers makes its frames from certified hardwoods, which are sourced from well-managed or reclaimed
forests
. This helps preserve the green spaces of our planet and protect endangered and old-growth trees. The wooden frames created by Cisco Brothers are swathed in 100 percent natural latex padding, which is made from rubber sap taken out of protected rain forest tree, which is a renewable resource that is biodegradable, and it lasts longer than petroleum-based foam.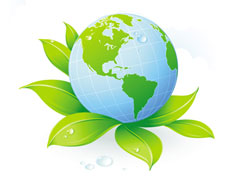 5) Hatley. The motto of this company is "Get Clothes to Nature", and it strives to do its business in a sustainable fashion. It uses natural and sustainable fibers and organic cottons to make some of its clothes. Its rain slickers are made from environmentally friendly polyurethane, avoiding the use of harmful PVC. Also, Hatley does not use azo dyes (suspected toxins) or chlorine bleach. Its colorful graphics of lumbering bears, galloping horses, and leaping frogs also help to make them popular.
For more information on environmentaly friendly businesses, click here:
en.wikipedia.org
,
business.gov
Leave a Reply
You must be logged in to post a comment.