The United States Department of Transportation has proposed a new set of rules regarding the transport of oil via train, due to the fact that several accidents have taken place in the last few months - including a derailment in Virginia that caused a large spill  which have called into question certain safety concerns about the trains.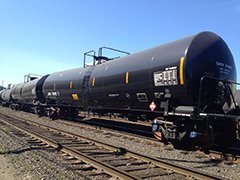 One of the new rules singles out a specific type of rail car, DOT-111, as a safety hazard because of a high potential risk of leaks and explosions, intending to gradually phase out that particular railcar. Also included in the proposition are restrictions regarding the speed of oil trains, as well as more stringent guidelines for testing mined gases and liquids that find there way onto the cars.
One of the more controversial concerns is the composition of some of the crude oil that is being shipped out of the North Dakota Bakken shale, which has seen a flurry of activity in the past two to three years. The Department of Transportation deemed the Bakken oil to possess a "higher degree of volatility" because of higher gas content, vapor pressure, and its ability to boil. People in the oil industry claim, however, that the crude which is being shipped from North Dakota has a similar composition to other crudes, and that there is no evidence of greater risk.
Either way, the new rules arrive at a time when estimates put the increase of rail carloads shipping oil at 4300 percent, which is an astronomical climb. The jump in freighted oil results primarily from the large quantities of oil produced recently at the Bakken shale, in addition to the fact that pipeline capacity is too scarce to handle the amount of oil in need of transport.
Although the proposal of new rules represents a step forward, many of the proposed standards may not apply to trains hauling a small number of oil carloads, which may present an easy loophole to an industry always eager to capitalize on one.
Source:
http://news.nationalgeographic.com/news/energy/2014/07/140723-united-states-oil-train-rules-proposed/