Carbon emissions tax are viewed by politicians and the general public alike as one of the 'good tax' forms. The perception of the reduction of carbon is perceived as a positive aspect of life, as opposed to the perception of a 'bad tax' such as income tax.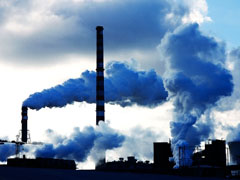 CO2 emissions tax fact 3 – There are disadvantages associated with the
carbon emissions
tax:
The tax has to go through several changes before it delivers the desired effect, which makes it venerable to political change. A CO2 emissions tax must compete with neighboring cities, states or countries which may have not implemented such a tax. If it is too high, a company can move to an area where there is either a lower tax or no tax at all. This can cause the area to lose valuable business income and jobs.
So far the carbon tax has not received too much international support.
The cap and trade method
has been more politically popular. The desired effect of the CO2 tax was to encourage a reduction of carbon emissions. This goal may not occur if the tax system itself has caused it to be a moot point due to lack of price increase.
Tax evasion - if the carbon taxes are too high many firms may be encouraged to hide their emissions.  With appropriate support to locate the offenders, the carbon emissions will continue without due process of law.
4 Responses to "Carbon Emissions Tax – Three Facts About the Global Effort to Reduce Carbon Dioxide Emissions -Part 2."
Leave a Reply
You must be logged in to post a comment.