If there was any doubt that America is full of hot air, a newly completed study with results published in Proceedings of the National Academy of Sciences confirms it … but only in the literal sense. Back in 2007 and 2008, researchers from universities and government labs went to the corners of the country measuring methane gas levels in the air. More than six years later, we now have the latest update: The U.S. is producing 50 percent more methane than we previously thought.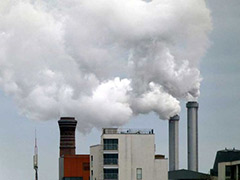 Due to gas wells and livestock farms, American methane emissions are 1.5 to 1.7 times higher than amounts previously estimated by the Environmental Protection Agency and by the International Emissions Database for Global Atmospheric Research (EDGAR). Although methane breaks down much faster than carbon dioxide (only a decade), the harmful greenhouse gas is approximately 30 times more prone to trapping heat that rises from our planet, which inevitably leads to global warming.
Why is this latest study so radically different? Are the varying results a symptom of increasingly dire air conditions or simply the variation of calculation methods? According to the researchers, it's the latter. The U.S. EPA and EDGAR counted total emissions from the source, such as each cow and each unit of coal and natural gas sold in the nation, while the most recent study measured actual methane emissions in the air, the scientists said.
"The bottom-up and top-down approaches give us very different answers about the level of methane gas emissions," lead study author Scot Miller, a graduate student at Harvard, said in the statement. "Most strikingly, our results are higher by a factor of 2.7 over the south-central United States, which we know is a key region for fossil-fuel extraction and refining. It will be important to resolve that discrepancy in order to fully understand the impact of these industries on methane emissions."
The percentage of man-made methane production versus natural sources was 60-40, and a quarter of the total man-made emissions came from Texas, Oklahoma and Kansas—perhaps less of a surprise than the fact that humans were responsible for the overall majority.
According to Becky Oskin's article on LiveScience.com, "The air samples were collected by aircraft and from instruments stationed on telecommunications towers. The research team is now tracking present-day methane levels to measure changes related to the boom in U.S. oil and gas production."
Source:
http://www.livescience.com/41528-methane-levels-us-higher.html