Many renewable energy sources show promise, and may be part of the answer to energy in the future


Fossil fuel use and dependence must be stopped to prevent even more damage to the environment


Wind, geothermal power, the sun, waves, tides, and others can provide power that is clean and renewable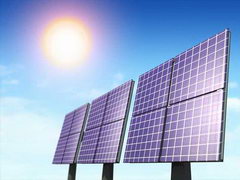 There are many renewable energy sources that can be utilized to replace fossil fuel use, and some of these are very promising. Using clean renewable sources instead of relying on fossil fuels will ensure environmental damage and pollution are minimized or eliminated.
1. Wind
Wind power is one of the most promising when it comes to renewable energy sources. The wind has incredible potential, but there are some drawbacks as well. Wind power turbines must be situated in areas where there are high averages of substantial amounts of wind. These turbines will not be effective or efficient unless there is a steady wind to turn the blades, and this means that they would not work well in locations that do not have windy conditions most of the time.
2. Geothermal Power
Geothermal power may be one solution to fossil fuel use. There is a great deal of heat underneath the crust of the earth, and electricity can be created using this heat. This is a very clean process, and usually involves heating water into steam, which can be used for heat and generating electricity. This process has no negative environmental effects, and the heat source in the earth is constantly regenerating so the supply will never run out.
3. Municipal Waste To Energy Programs
Municipal waste to energy programs can be promising renewable energy sources. These programs take municipal waste, basically household garbage, and this waste is turned into a source of power, which is then sent back to homes and businesses as heat and electricity. With the number of landfills which are closed and at capacity, coupled with the fact that municipal waste will be continuously created, these programs can provide the resources needed while cleaning up the earth at the same time.
4. Tidal Power
Tidal power is energy which is harnessed by using the tides and their movements. The ocean tides have a significant power, and when this is harnessed it can be one of the clean renewable energy sources which does not pollute the earth, contribute to global warming, or use fossil fuels. The tides are a powerful force in the ocean, and if harnessed they can provide large amounts of clean power that does not pollute the earth or air.
5. Solar Power
The sun can be one of the most powerful renewable energy sources possible. Capturing and using just the sunlight which hits the earth in one day could provide enough energy for the entire world all year. There is no environmental damage or pollution involved, and an enormous amount of power can be generated using solar panels. These panels can be installed on almost any structure, and can greatly reduce the dependence on fossil fuels which harm the world.
6. Biomass
Biomass is considered a promising alternative energy source. Biomass includes all organic materials, such as plant and animal materials. This material can be used in a number of ways to generate needed power. Biomass can be burned, it can be placed in special containers to speed up the decaying process, so that the gases released can be captured and used, or biomass can be used in other ways. Biofuels can be made from biomass and used in vehicles in place of fossil fuels.
7. Wave Power
Waves can be one of the most promising alternative renewable energy sources that have been discovered. The waves on the ocean are always moving, and when severe weather hits there can be incredible amounts of power in these waves. This technology does have a few drawbacks, and the equipment used with this method must stand up to tremendous and extreme conditions to be effective.
5 Responses to "7 Most Promising Renewable Energy Sources"
Leave a Reply
You must be logged in to post a comment.