Energy Efficiency Builder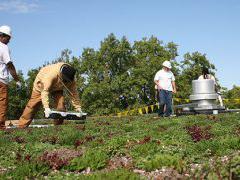 This is a wonderful new opportunity in green employment, since 48 percent of U.S. greenhouse gas emissions are currently produced by buildings. There are some new cutting edge efficient buildings in existence in Germany in Switzerland, which use 75-95 percent less heat energy than traditional buildings in the U.S. To make the U.S. buildings "green" will require skilled engineers and architects, as well as a workforce of retrofitters. There will be countless green jobs in this sector in the future.
Solar Power Installer
A great new sector in green employment is solar jobs. There are already about 770,000 solar jobs that exist worldwide, and installing rooftop photovoltaic cells and solar-thermal water heaters is well-paid. For those who have construction skills, it can pay up to $35 an hour. Opportunities are currently available all over the U.S. with 3,400 companies providing 25,000 to 35,000 solar jobs. The Solar Energy Industries Association forecasts this number to rise to about 150,000 solar jobs by 2016.
Wind Turbine Fabricator
An abundance of green employment also exists in the wind energy sector as wind is currently the fastest growing alternative energy technology. There are over 300,000 wind jobs available worldwide. For example, there is the opportunity for autoworkers to transfer their skills to this industry, because turbines are made of 90% metal. There are currently 50,000 wind jobs held by Americans, with more opportunities being created on an ongoing basis.
Recycler
The green employment list continues with recycling, as this is basically what started it all. According to recent reports, there are currently over one million recycling jobs in the U.S. alone. Although the plastic and paper market has slowed down in the past couple of years because of the economic recession, the demand for steel continues to be strong. Results show that in 2006, 42 percent of output was from scrap, so recycling is still the economical alternative to the high costs of disposal. There are over 200,000 people who are employed in secondary steel production around the world, with the United States being a large production center. There are also new regulations and laws coming into force, which are beginning to create the need for specialized companies that can bring the recycling loop to a close. They are the ones that repurpose plastic bags, clothing, construction waste, e-waste, and many other materials.
Green Entrepreneur
A report released recently showed that business services, such as consulting, legal, and research make up the largest number of green jobs, which currently stands at more than 400,000 in the U.S. So, there are some amazing opportunities in green employment if you have decent business skills and a solid grounding in the latest environmental laws.
For more information, go to:
greenjobs.com
,
wikipedia.org
4 Responses to "5 Green Jobs to get excited about in the next decade."
Leave a Reply
You must be logged in to post a comment.